Tickets
NEWS AND ANNOUCEMENTS
- The Croissant Museum is open from 21st of May! We are closed on 1st and 2nd of Nov.

- Check the availabilty of open tours in English in next days: here.

– Conservation break 20/12/2021-6/01/2022

Times
Open croissant shows in English

(new hours!)

14:00 – Saturdays and Sundays (all year round)
14:00 – more shows in English sometimes available: check here
Individual tourists are welcomed! This show is English only or (rarely) bilingual English and Polish – depending on audience that show up. Reservations recommended at: muzeum@rogalowemuzuem.pl.
Make sure you arrive 10 minutes before the show and wait downstairs. Check for closed days on the right of our main page.
Additional / dedicated show times in English, German or French
Additional show times (including evening shows) – are available for larger groups and companies. Please send us an email with the proposed date and time, number of people and language of the show to check prices and availablity.
Open shows in Polish
11:00, 12:30, 14:00, 15:30, 17:00* (*summer season and Saturdays)
We run more shows in Polish everyday, but please note that the understanding of the language of the show is very important to get the right message, experience and fun. Therefore, we recommend the non-polish speakers to choose English tours.
Purchase of tickets
The Museum has a capacity of ca. 50 people (or less within actual sanitary restrictions). Tickets are purchased before the show. Guests with confirmed bookings have priority to enter. Cash and popular cards (Visa, Mastercard) are accepted. Bookings for open shows are recommended (number of places is limited) and bookings for the decidated shows are reqiured  – How to book your visit. We reserve the right to cancel a show for less than 3 people. IMPORTANT: Make sure you arrive at least 10 minutes before the show and wait downstairs in front of the building for a member of our staff or come upstairs. Please do not use the door phone.
Price list
From 26th of June 2021

Croissant shows
Croissant + goat shows

Open shows in English

27 PLN / pers.

-
Open shows in Polish
24 – 27 PLN / pers.
29-31 PLN / pers.
Prebooked dedicated shows in ENGLISH,

in GERMAN or in FRENCH

29 PLN / pers.

min of 25 tickets

35 PLN / pers.

min of 35 tickets
Location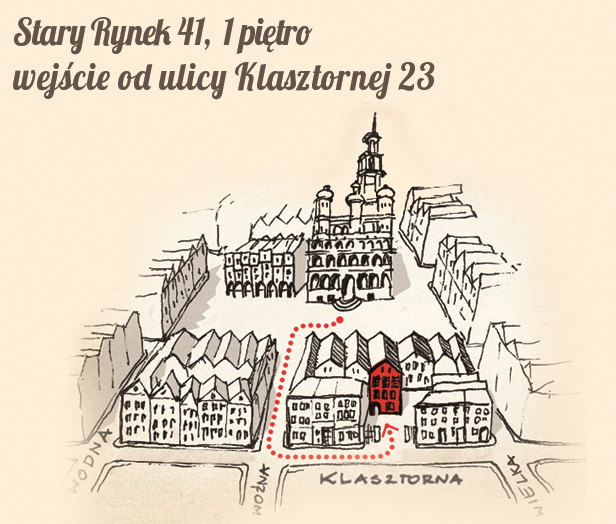 Stary Rynek (Old Square) 41, entry through the courtyard on Klasztorna Street 23 (see detailed map), 1st floor. Please wait in the courtyard, a member of the staff will meet you there 10 minutes before the show. You will be able to buy tickets then.
Facilities
Two of the show rooms do have the air-conditioning system. The Museum sells gift-wrapped St Martin Croissants as well as other souvenirs. We are sorry but the staircase can not been adjusted for disabled access.
Groups
Groups over 15 people are required to book in advance. It is best to book online. We reply within 1 day maximum.You can also book via phone by dialing (+48) 690 077 800 (Mon-Sun, 10:00-15:30).
Language
Non-polish speakers (also individual tourists) are welcomed on the show with English transalation: - All year round - on Saturdays and Sundays at 2 pm - In summer season: July-August (or even longer) – daily  at 2 pm. For groups dedicated shows in English, French and German – are also available under reservation at other times.  Advance booking required – please book online.
Regulations
All guests are kindely asked to obey to the Museum staff's safety and order instructions. Please switch your phone off and let others enjoy the show. The Museum has a video surveillance system.